History
The original MaxCal grew out of a contest between AJ and Brian. For unknown reasons -- probably because it seemed like a good idea at the time -- they decided to see who could eat the most spoonfuls of dry Nestle Quik Mix directly from the container. After nearly fifty spoonsfuls Brian called it quits, and a new tradition had begun.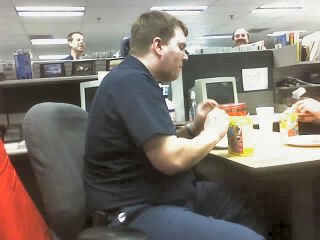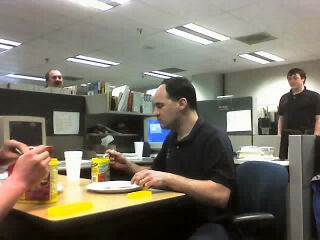 2005 brought the now-familiar "three of the largest meals possible" format, and while not every one succeeded, no one died. In 2006 the ante was raised to two of the largest meals possible from Hardees, and a dinner of the most cheese, meat, and fat-laden pizzas possible from Pizza Hut. More hopefuls fell by the wayside, but others rose to the challenge... and surprisingly survived. In 2007 the competition format evolved once more. There are still three massive meals from three different sources -- each one the most diet-devastating, calorie clobbering, stomach-stretching meals possible -- but with an added dimension: a winner-take-all eat-off between the finalists.
While there is no Lombardi Trophy in this sport, the victor commands respect, awe, and even fear. If what doesn't kill you truly makes you stronger, then these gastronomic gladiators are strong men indeed. When it comes to the MaxCal Champion, There Can Be Only One.
| Year | Participants | Finalists |
| --- | --- | --- |
| 2007 | AJ, Doug, Erik, Jordan, Pete, and Tim | Two |
| 2008 | AJ (Aeron), Andrew, Doug, Jim, John, Jordan, and Pete | Event Cancelled. :( |
| 2011 | To Be Determined | Coming soon! |
(Click on the year column to see each competition report.)